Mary Ann Goddard [2332] 717
Born: 1832, Bethnal Green, , Middlesex, England 472
Marriage (1): James CORY [664] on 24 June 1854 in Bow, , Middlesex, England
Died: 19 August 1910, Woolfardisworthy, , Devonshire, England at age 78
Buried: 24 August 1910, Woolfardisworthy, , Devonshire, England
FamilySearch ID: LD13-53G. Find a Grave ID: 157546366.
Noted events in her life were:
1. In 1871 she had a residence in Rotherhithe, , Surrey, England. 472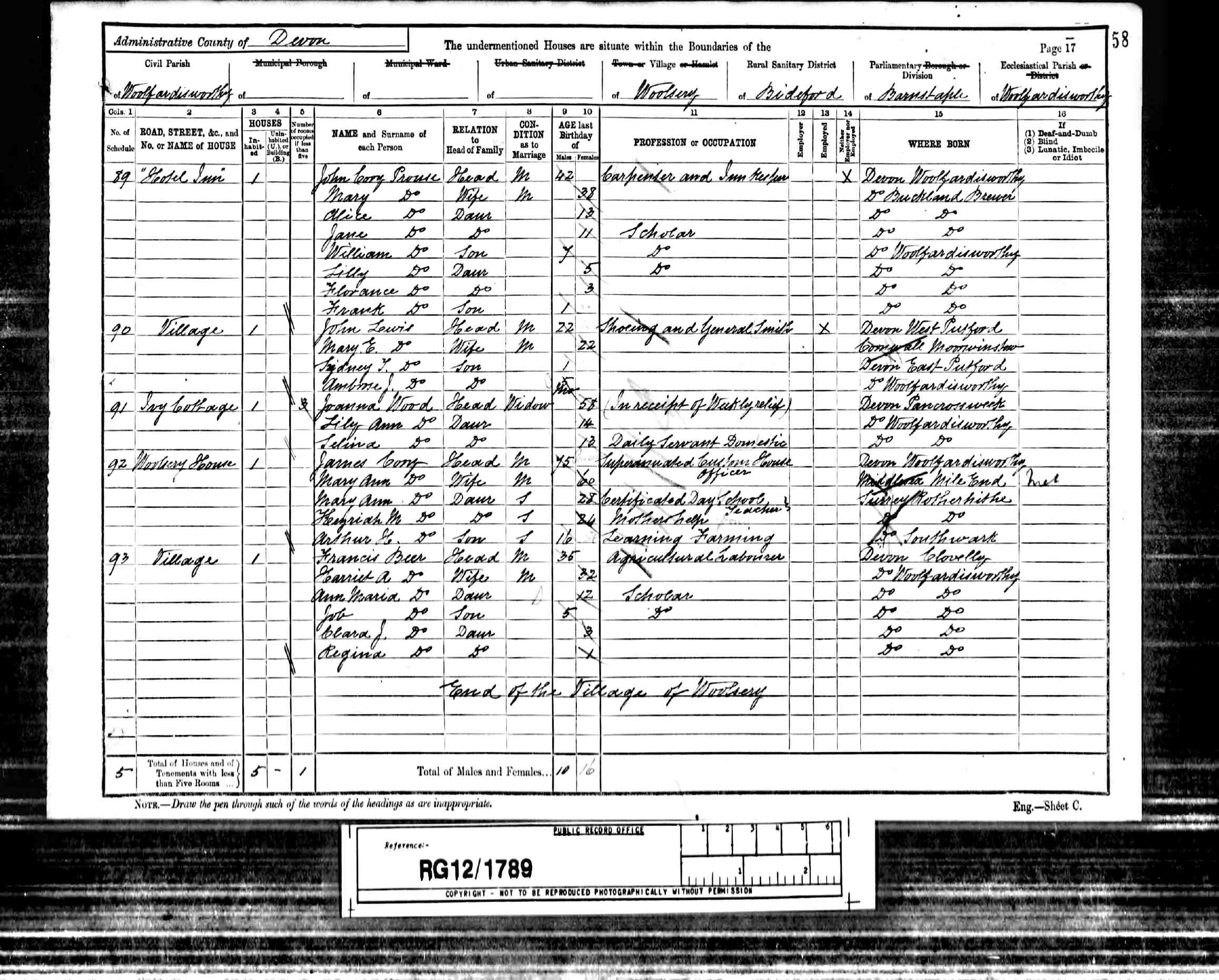 2. She appeared on the 1891 British census on 5 April 1891 in Woolfardisworthy, , Devonshire, England. 470 Woolsery House

CORY, James Head M M 75 y Superintendant Customs House DEV Woolfardisworthy
CORY, Mary Ann Wife M F 60 y MDX Mile End
CORY, Mary Ann Dau S F 28 y Certificated Day School Teach SRY Rotherhithe
CORY, Keizriah M Dau S F 24 y Mothers Help SRY Rotherhithe
CORY, Arthur H Son S M 16 y Learning Farming SRY Southwark

This is likely James Cory's second marriage after Catharine Grigg died (1839) only a year after their 1838 marriage. It is possible that she died giving birth to their child, Huldah Cory on August 9, 1839.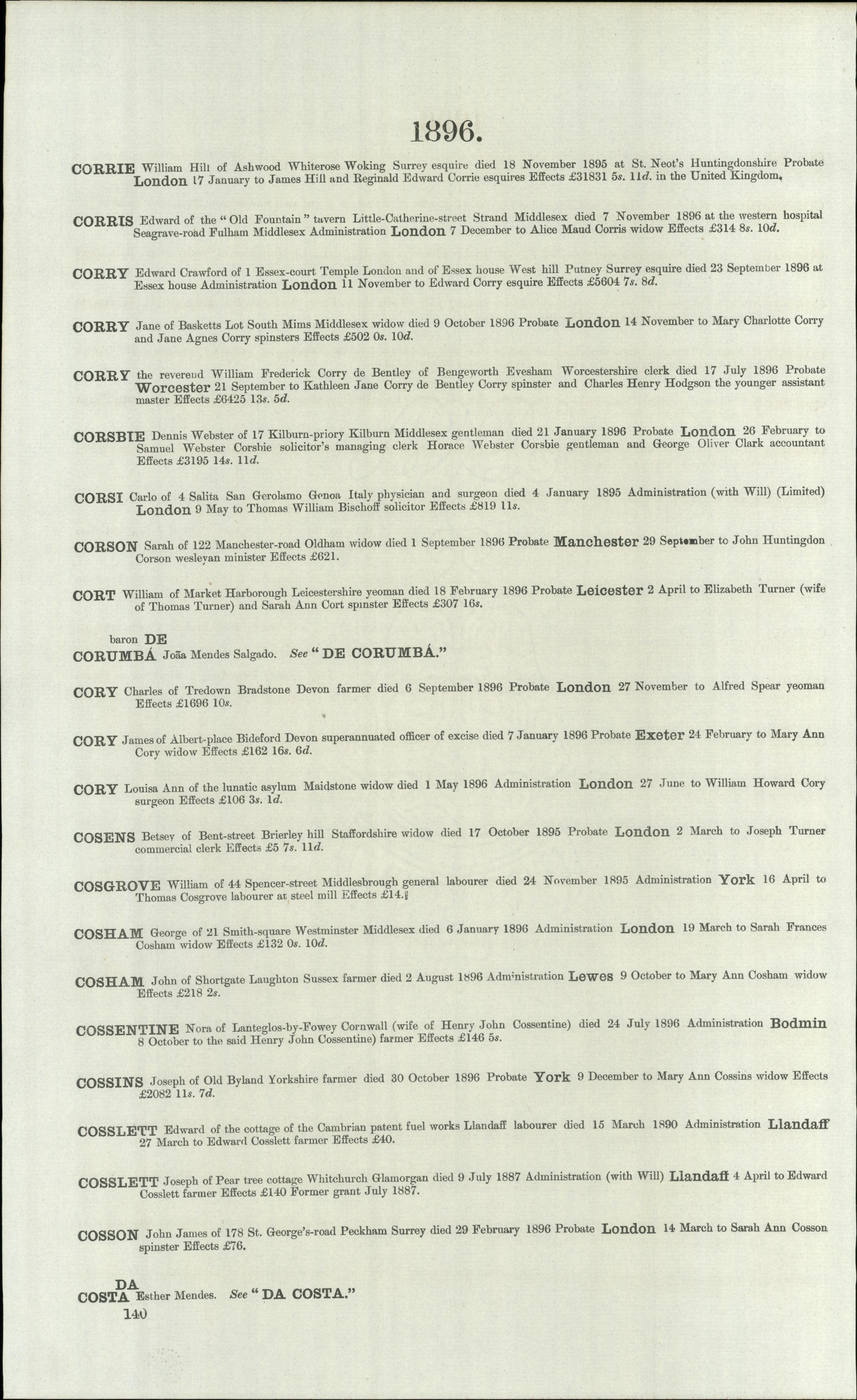 3. Mary witnessed the probate of James CORY [664] on 24 February 1896 in Exeter, , Devonshire, England: to Mary Ann Cory, widow. Of Albert-place, Bideford, Superannuated officer of excise, £162 16s 6d This event was shared from James CORY [664]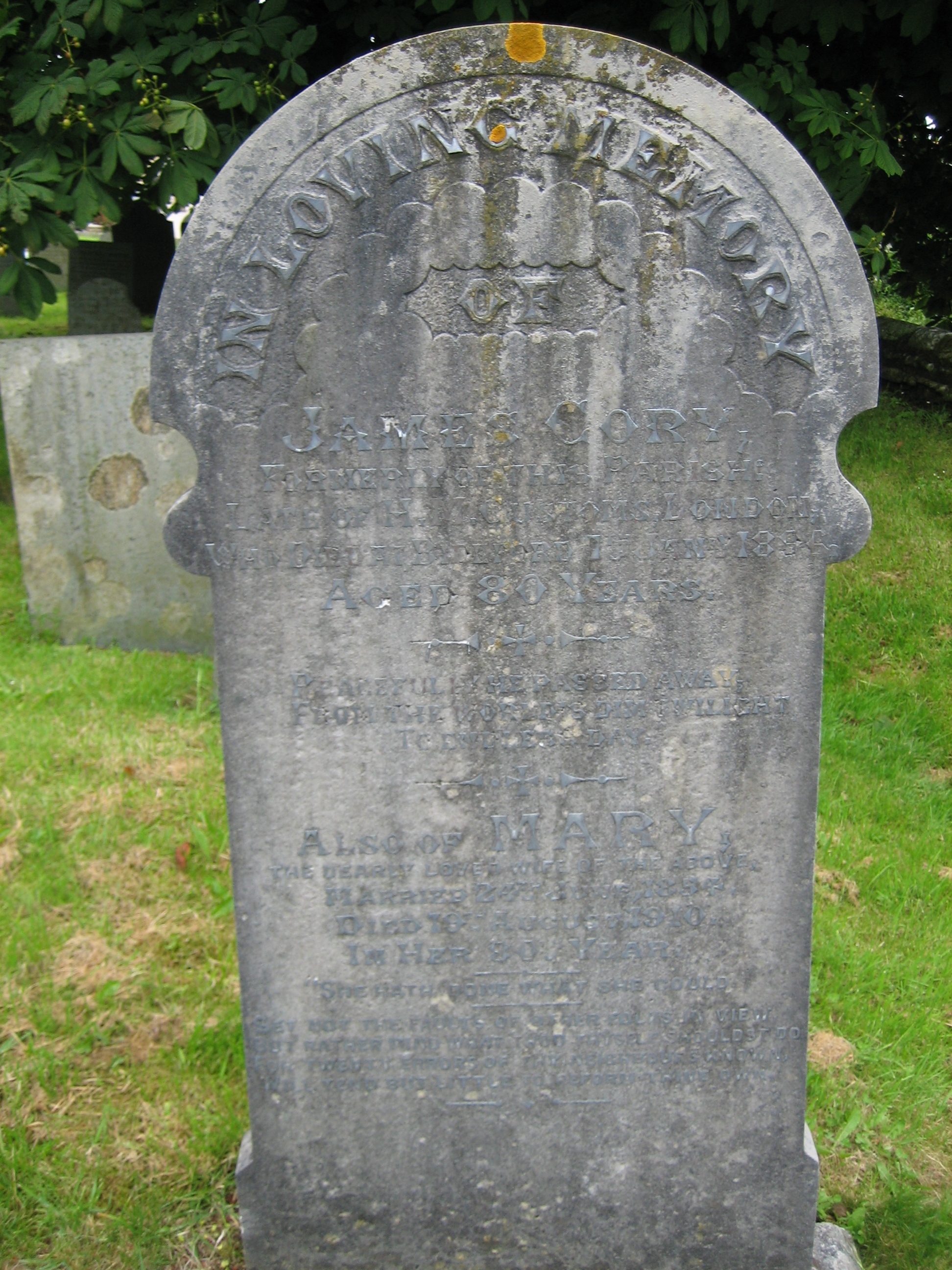 4. She was buried at the All Hallows Church in Woolfardisworthy, , Devonshire, England on 24 August 1910. All Hallows Church Cemetery Photos (All Hallows' Churchyard, Woolfardisworthy, Devon EX39 5QF, England.)
Mary married James CORY [664] [MRIN: 4174], son of Francis CORY [666] and Elizabeth BRAUND [667], on 24 June 1854 in Bow, , Middlesex, England. (James CORY [664] was born in 1815 in Woolfardisworthy, , Devonshire, England, christened on 5 November 1815 in Woolfardisworthy, , Devonshire, England,468 died on 7 January 1896 in Bideford, , Devonshire, England and was buried on 13 January 1896 in Woolfardisworthy, , Devonshire, England.)
Marriage Notes:
St. Mary's Church