Devon County
A county of England, reaching from the Bristol to the English Channel, and bounded by Cornwall, and Somersetshire, and Dorsetshire. It is 69 miles in length, and 60 in breadth, and is divided into 31 hundreds. It is very hilly, and abounds in huge granite rocks, some of whose peaks are above 1500 feet in height. The highland is covered with wide moors, of which Dartmoor is the most extensive. But in the valleys and lower ground the soil is fertile. Its rivers are the Exe, the Culm, the Dart, the Tamar, the Otter, &c. Some parts of its coasts are composed of lofty cliffs, but at others there is a beautiful sandy shore. The air and climate are so mild and salubrious that invalids often retire to its sea-ports for the winter. Limestone, granite, some building-stone, and a species of wood-coal are found here, as well as some kinds of variegated marble. It produces corn, &c. and fruit trees, especially apples, whence much cider is made. Its fisheries also are of value. Exeter is its chief city. Population, 533, 460. It sends 22 members to parliament."
[From Barclay's Complete and Universal English Dictionary, 1842.]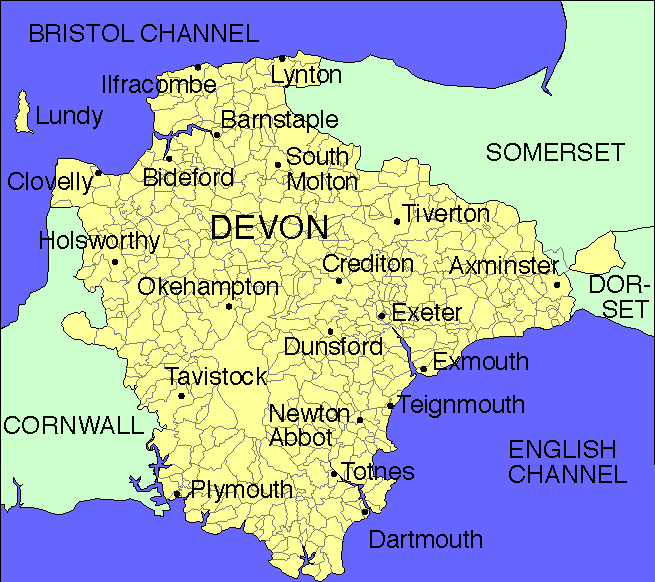 1851 Census - Includes listings for Francis Cory, John Pennington, and Wm. Pennington.


1881 Census - Includes listings for George Davey and Mary Ann Davey.
A parish in Hartland Hundred, the Archdeaconry of Barnstaple, and the Diocese of Exeter.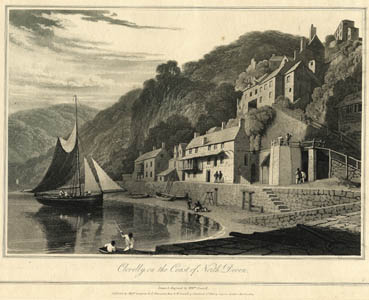 "CLOVELLY, or Clovelleigh, is a pleasant village and fishing station, occupying a singular and picturesque situation, on the side of a steep rock, adjoining Bideford Bay, about 4 miles E. Hartland, and 11 miles W.S.W. of Bideford. It is one of the most romantic places in Devon, and the houses being built on the precipitous side of the sea cliff, one above the other; the main street ascends in terraces and flights of steps from the beach and pier. Clovelly is celebrated for its herring fishery, besides which large quantities of conger, whiting, hake, pollack, and cod fish are caught in the winter; and turbot, sole, plaice, gurnet and mackerel in summer. Its parish had 950 inhabitants in July, 1841, besides 40 seamen who were then absent; and contains about 42000 acres of land, mostly the property of Sir James Hamlyn Williams, Bart., who is lord of the manor, and has a large and handsome seat, called CLOVELLY COURT, erected about 1780, on the site of the ancient mansion, which was destroyed by fire. The views from the house and grounds are extremely grand; and above the cliffs, to the south-east of the village, are the remains of an entrenchment, called Clovelly Dikes, of a square form, and unknown origin."
[From W. White. History, Gazetteer, and Directory of Devonshire, 1850]
"WOOLFARDISWORTHY, a parish, in the union of BIDEFORD, hundred of HARTLAND, Great Torrington and N. divisions of DEVON, 9 1/2 miles (S. W. by W.) from Bideford; containing 988 inhabitants. This parish, which reaches to the sea-coast, comprises about 6000 acres: stone of good quality for building is extensively quarried, and shipped from Bideford to various places. The village, which extends into the adjoining parish, is chiefly inhabited by fishermen, who are also employed in carrying sand from the shore for the use of farmers in dressing the lands; there is also a fishing-hamlet in the parish, situated on the same bay as Clovelly and where a commodious quay might easily be formed. Two fairs for cattle are annually held. . . The church has an enriched Norman doorway and font, and contains a monument to the Cole family. There are places of worship for Primitive Methodists and Wesleyans."
[From Lewis' Topographical Dictionary of England (1844)]

1850 Directory of Woolfardisworthy - Includes listings for Robert Davy, Wm. Pennington, Francis Cory, John Cory, Susanna Cory, John Dunn, and Wm. Grigg among others.