Bethel Cemetery
Chippewa County, Michigan
Bethel Cemetery Entrance
Roe
At Rest
Robert G. Roe
Michigan Pvt Btry B 329 Field Arty WWI
July 18, 1889 - April 1, 1970
Hulda Roe
July 10, 1893 - Nov 21, 1970
T. John Roe
1875 - 1968
Robert (Father) Roe
1845 - 1921
Anna E. (Mother) Roe
1854 - 1942
Isabella M. Roe
Nov. 9, 1892 - Apr. 6, 1972
William P. Roe
June 7, 1893 - Aug 14, 1992
Alfred Roe
1858 - 1913
Roe
Myrtle Crawford - wife of Adam Roe
Nov 10, 1886 - Aug 26, 1910
Adam Roe
1876 - 1947
Pennington
Charles and Mary Jane
Charles (Father) Pennington
1850 - 1935
Mary Jane Dunn
Wife of Charles Pennington
1877 - 1925
Melinda Davey
Wife of Charles Pennington
Died Oct 18, 1899, 37 yrs 7 ms 16 ds
Pennington
Fredrick J. - Died Feb 18, 1889 - 2 yrs 2 mos 7 days
George E. - Died March 3, 1889 - 6 yrs 4 mos
Margaret A. - Died March 4, 1889 - 5 yrs
Children of Charles & Melinda Pennington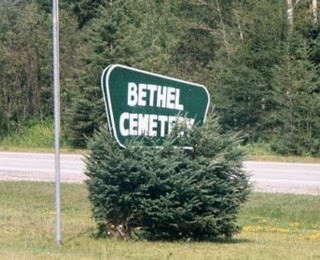 Additional Information
These pictures were taken on a visit to Bethel Cemetery on July 27, 2001.
Bethel Cemetery is located on M-129 near 20 Mile Road in Pickford Township, Chippewa County, Michigan.
Entries in bold text are in my direct line of ancestry. Names in blue provide a link to family information on that individual.
Click on a thumbnail image for an enlarged view. Enlarged views will open in a new window. Close that window to return to this page.