Donaldson Cemetery
Chippewa County, Michigan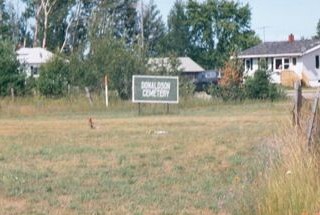 Additional Information
These pictures were taken on a visit to Donaldson Cemetery in Chippewa County, Michigan on July 27, 2001.
Donaldson Cemetery is located on Highway M-129 and 13 Mile Road in Chippewa County, Michigan. The cemetery is divided into two parts. One side is visible from the highway and the other is across the road (13 mile - dirt road) behind the Donaldson Presbyterian Church.
This Cemetery is well-kept and the stones are in good condition. It contains some rather old stones, dating anywhere from early 1800's to present. It is still used for current burials.
Entries in bold text are in my direct line of ancestry. Names in blue provide a link to family information on that individual.
Click on a thumbnail image for an enlarged view. Enlarged views will open in a new window. Close that window to return to this page.