Lytle Cemetery
Chippewa County, Michigan
Lytle Cemetery Sign, 2001
Lytle Cemetery Sign, 2004
Edith Hunter (Top View)
Wife of Samuel Brown
Died Mar. 9, 1908, Aged 21 Years
Edith Hunter (Front View)
Wife of Samuel Brown
Died Mar. 9, 1908, Aged 21 Years
Hunter
William Hunter on front
David Hunter or right side
William Hunter
Died Apr. 4, 1884
Aged 40 Yrs.
David Hunter
Died July 14, 1905
Aged 22 Years
William Wahl
Born Feb 2, 1861
Died June 12, 1911
William Wahl (Close Up)
Born Feb 2, 1861
Died June 12, 1911
William H. Wahl
1891-1947
Elilles Fountain Wahl
1860-1943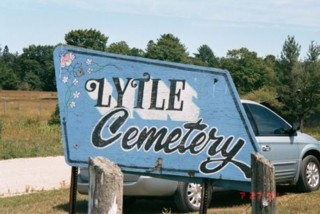 Additional Information
These pictures were taken on visits to Lytle Cemetery on July 27, 2001 and August 21, 2004.
Lytle Cemetery is located 2 miles south of Goetzville on Beady Road, just east of Michigan-48 in Chippewa County, Michigan. Lytle Cemetery is also known as Little Cemetery.
Entries in bold text are in my direct line of ancestry. Names in blue provide a link to family information on that individual.
Click on a thumbnail image for an enlarged view. Enlarged views will open in a new window. Close that window to return to this page.