Mount Zion Cemetery
Chippewa County, Michigan
Mount Zion Cemetery
Brown
David William, 1874 - 1935
Elizabeth Lawerence, 1866 - 1967
William Eagle
Sarah Ann Eagle
Wife of William H. Eagle, 1841 - 1918
Carl W. Eagle
1923 - 1924
Julia Maud Eagle
Daughter of William and Sarah, 1884 - 1887
James Farney
Farney
J. Robert, 1855 - 1938
Agnes, 1862 - 1894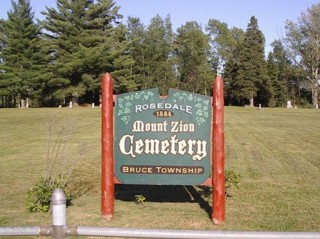 Additional Information
These pictures were taken on a visit to Mount Zion Cemetery on August 21, 2004.
Mount Zion Cemetery is located on Ridge Road and 8 Mile Road in Chippewa County, Michigan.
Click on a thumbnail image for an enlarged view. Enlarged views will open in a new window. Close that window to return to this page.