Riverside Cemetery
Chippewa County, Michigan
Riverside Cemetery
William and Barbara Ruehle
William - Born Apr 30, 1832 - Died June 24, 1892
Barbara - Born Mar 21, 1841 - Died May 7, 1917
Minnie F. Ruehle
wife of Mark Sheply
1875 - 1929
Frank G. Ruehle
Michigan US Vol Inf
1866 - 1929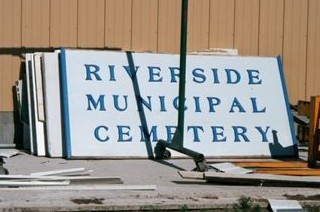 Additional Information
These pictures were taken on a visit to Riverside Cemetery on July 27, 2001. Riverside Cemetery is located on Riverside Drive, Sault Ste. Marie, Chippewa County, Michigan.
Historical notes on Riverside Cemetery:
May Buy Riverside Cemetery (The Sault Ste. Marie News, November 25, 1899)
"The council visited Riverside cemetery in a body Wednesday to look over the ground and investigate the advisability of purchasing the property for a city cemetery. The cemetery has been offered to the city for $8,000, the amount it has cost the Cemetery Association. Many notable improvements have been made upon it by the present owners and in view of this the amount asked seems hardly disproportionate. The cemeteries on the hill are taxed to their capacity and a new location will soon become an imperative necessity. The matter will probably be settled at the next meeting of the council."
Entries in bold text are in my direct line of ancestry. Names in blue provide a link to family information on that individual.
Click on a thumbnail image for an enlarged view. Enlarged views will open in a new window. Close that window to return to this page.