St. Michael Church Cemetery
Cornwall County, England
St. Michael's Church Sign, Bude, Cornwall, England
St. Michael's Church, Bude, Cornwall, England
In Loving Memory of John Henry Davey (Jack)
21st Dec 1899 - 21st June 1956
Gertrude Alice Davey, Wife of the above
6th Sep 1904 - 18th April 1983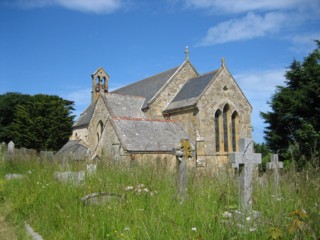 Additional Information
These pictures were taken on a visit to St. Michael and all Angels Church Cemetery on June 23, 2008.
St. Michael and all the Angels Church is located in Bude, Cornwall, England.
Click on a thumbnail image for an enlarged view. Enlarged views will open in a new window. Close that window to return to this page.