Otis Irving RIGHTMYER [200] 260,261
Marriage (1): Blanche Louisa ORTENBURG [344] on 8 October 1926 in Sault Ste. Marie, Chippewa, Michigan, United States 260
Died: 24 October 1971, Sault Ste. Marie, Chippewa, Michigan, United States at age 68 260
Buried: After 24 October 1971, Bruce, Chippewa, Michigan, United States
FamilySearch ID: LK1G-7C6. Find a Grave ID: 73567681.
General Notes:
Otis appears as a witness at the Marriage of Reuben Hunter and Melinda Pennington.
Burial Notes:
Bruce, Chippewa, Michigan, United States
Noted events in his life were:
1. He appeared in the household of John Lynden RIGHTMYER [201] in the 1910 United States census on 26 April 1910 in Raber, Chippewa, Michigan, United States. 1910_MI_Chippewa_12_23_02a
This event was shared from John Lynden RIGHTMYER [201] who also shared it with Albert Floyd RIGHTMYER [203], Glen Linden RIGHTMYER [341], Hannah FOUNTAIN [145], Lila Ameline RIGHTMYER [494], Reuben HUNTER [50], and Sarah Eleanor HUNTER [211].
2. In 1920 he had a residence in Sault Ste. Marie, Chippewa, Michigan, United States. 262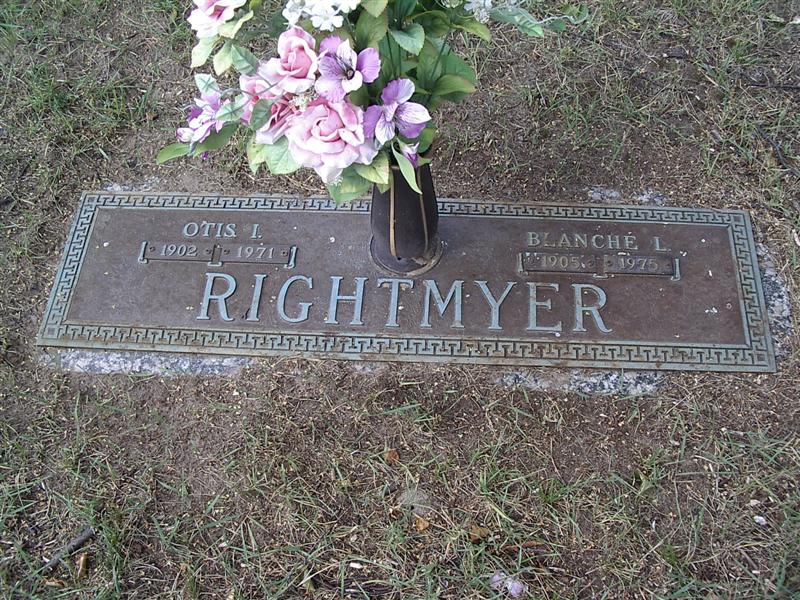 3. He was buried at the Oaklawn Chapel Gardens in Bruce, Chippewa, Michigan, United States after 24 October 1971. Oaklawn Chapel Gardens Photos
Bruce, Chippewa, Michigan, United States (Oaklawn Chapel Gardens, 15264 S. Highway M-129, Bruce Township, Michigan 49783, United States.)
Otis married Blanche Louisa ORTENBURG [344] [MRIN: 115], daughter of Paul Rudolph ORTENBURG [5017] and Elizabeth Sarah LITTLE [5018], on 8 October 1926 in Sault Ste. Marie, Chippewa, Michigan, United States.260 (Blanche Louisa ORTENBURG [344] was born on 22 January 1905 in Brimley, Chippewa, Michigan, United States,260 died on 13 September 1975 in Sault Ste. Marie, Chippewa, Michigan, United States 263 and was buried in September 1975 in Sault Ste. Marie, Chippewa, Michigan, United States.)