Garden of Memories Cemetery
Kerr County, Texas
Garden of Memories Cemetery
Martyn
Glenn E. Nov 27, 1895 - May 6, 1987
Grace L. Dec 8, 1895 - Oct 17, 1990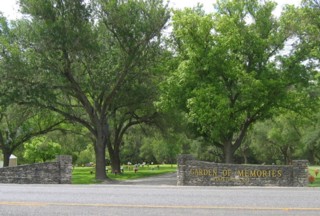 Additional Information
These pictures were taken by Bruce Martyn on a visit to Garden of Memories Cemetery on July 3, 2006.
Garden of Memories Cemetery is Kerr County's largest cemetery. It is located about 3 miles from town on East State Highway 16. There are two cemetery entrances on the right as you drive toward Fredericksburg. Two sections - one on the West and one on the East - allow upright stones. The rest of the grave markers are flat at ground level. There is a section at the south (back) area that is on a lower level. Paved roads wind throughout the cemetery. A Mausoleum is across the highway on the North side where the cemetery office is also located.
Entries in bold text are in my direct line of ancestry. Names in blue provide a link to family information on that individual.
Click on a thumbnail image for an enlarged view. Enlarged views will open in a new window. Close that window to return to this page.