Levina Jennette McKIDDIE [210] 75
Born: December 1892, Charlotte, Eaton, Michigan, United States
Marriage (1): Herbert Lester McCULLIGH [209] on 16 February 1914 in Sault Ste. Marie, Chippewa, Michigan, United States 279
Died: 6 July 1921, Marquette, Marquette, Michigan, United States at age 28 78
Buried: July 1921, Dafter, Chippewa, Michigan, United States 78
FamilySearch ID: L221-RXH. Find a Grave ID: 169824344.
General Notes:
The following are buried in Donaldson Cemetery in Chippewa County, Michigan: McKIDDIE DAN 1895-1962 WITH JEANNETTE
McKIDDIE DAVID C. 1863-1930 WITH JEANNETTE
McKIDDIE JEANNETTE 1900-1965
McKIDDIE JEANNETTE 1872-1948 WITH DAVID
McKIDDIE JESSIE FREDERICK JAN 30, 1852-NOV 28, 1901 WIFE OF ALEX
McKIDDIE LAURA E. NOV 13, 1898-JAN 16, 1983 WITH WESLEY
McKIDDIE WESLEY D. AUG 28, 1895-APR 13, 1982 WITH LAURA
Burial Notes:
Bruce, Chippewa, Michigan, United States
Noted events in her life were: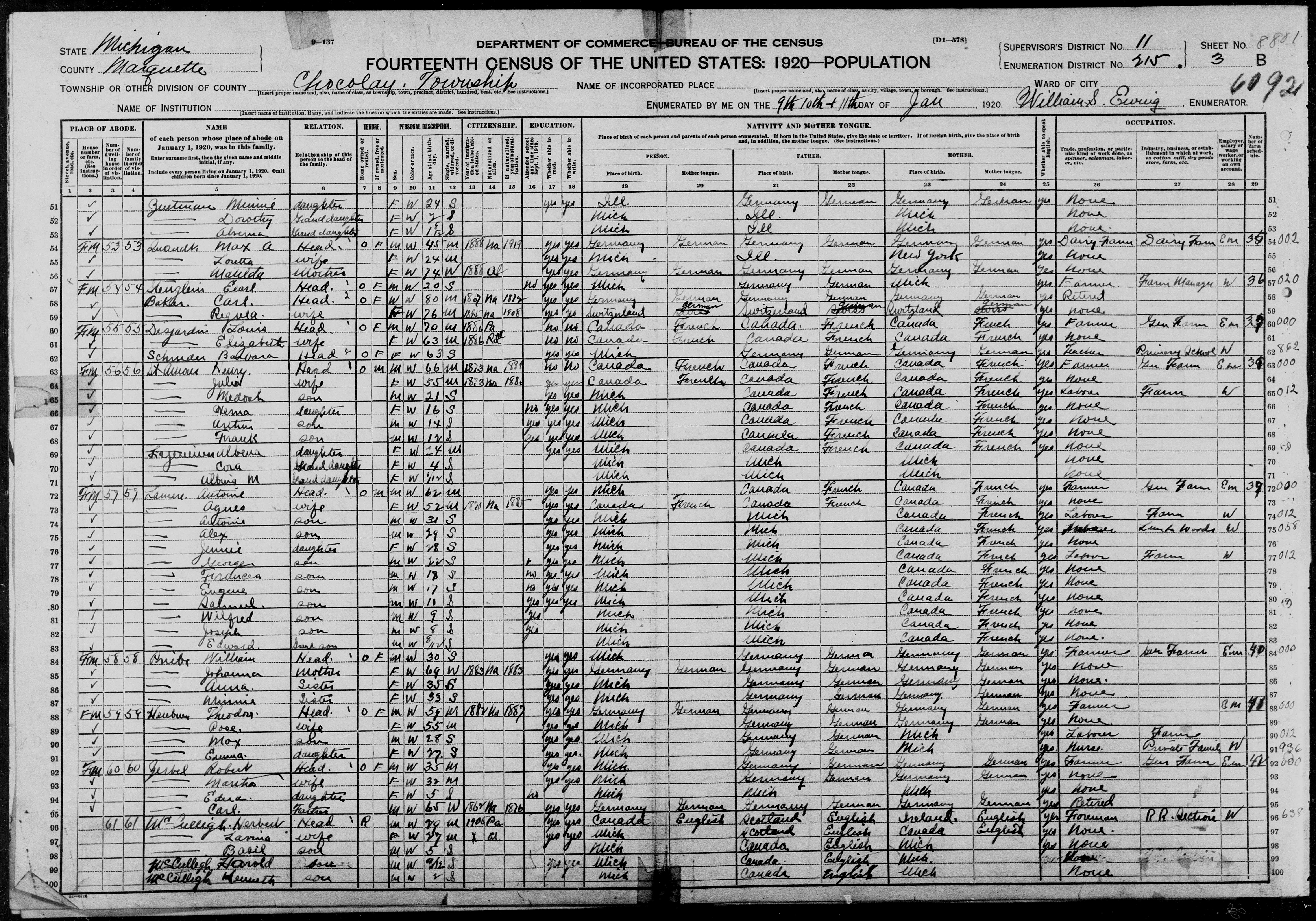 1. Levina appeared in the household of Herbert Lester McCULLIGH [209] in the 1920 United States census on 9 January 1920 in Marquette, Marquette, Michigan, United States. RelationNameAge
HeadHerbert Mcculligh29
WifeLavinia Mcculligh27
SonBasil Mcculligh5
SonKenneth Mcculligh2
SonHarold Mcculligh9 months This event was shared from Herbert Lester McCULLIGH [209] who also shared it with Basil Herbert McCULLIGH [98], Harold McCULLIGH [4039], and Kenneth McCULLIGH [4040].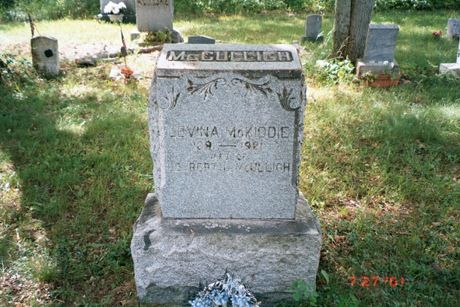 2. She was buried at the Donaldson Cemetery in 1921. Donaldson Cemetery Photos
Inscription: Levina McKiddie, 1881 - 1921, Wife of Herbert McCulligh
Bruce, Chippewa, Michigan, United States (Donaldson Presbyterian Cemetery, 13036 South M-129, Dafter, Michigan 49724, United States.)
Levina married Herbert Lester McCULLIGH [209] [MRIN: 62], son of Thomas M. McCULLIGH [2523] and Mary Jane KIRKPATRICK [2524], on 16 February 1914 in Sault Ste. Marie, Chippewa, Michigan, United States.279 (Herbert Lester McCULLIGH [209] was born on 2 August 1890 in Sandfield, Manitoulin, Ontario, Canada and died on 23 December 1941 in Sault Ste. Marie, Chippewa, Michigan, United States.)