Lillian May LEACH [213] 271
Born: February 1885, Caledonia, Kent, Michigan, United States 283
Marriage (1): Amos HUNTER [292] on 15 October 1906 in St. Ignace, Mackinac, Michigan, United States
Marriage (2): Unknown PARKER [737]
Died: 23 December 1958, St. Ignace, Mackinac, Michigan, United States at age 73 169
Buried: 1958
Other names for Lillian were Lilly LEACH, May Lillian LEACH 284 and May L. LEADS.284
FamilySearch ID: 9XJ4-G2K.
Burial Notes:
Bruce, Chippewa, Michigan, United States
Noted events in her life were:
1. She has conflicting birth information of Abt 1885 in Goderich, Huron, Ontario, Canada. 285
2. She worked as a house keeper In the Stevenson Home on 9 June 1900 in Raber, Chippewa, Michigan, United States. 283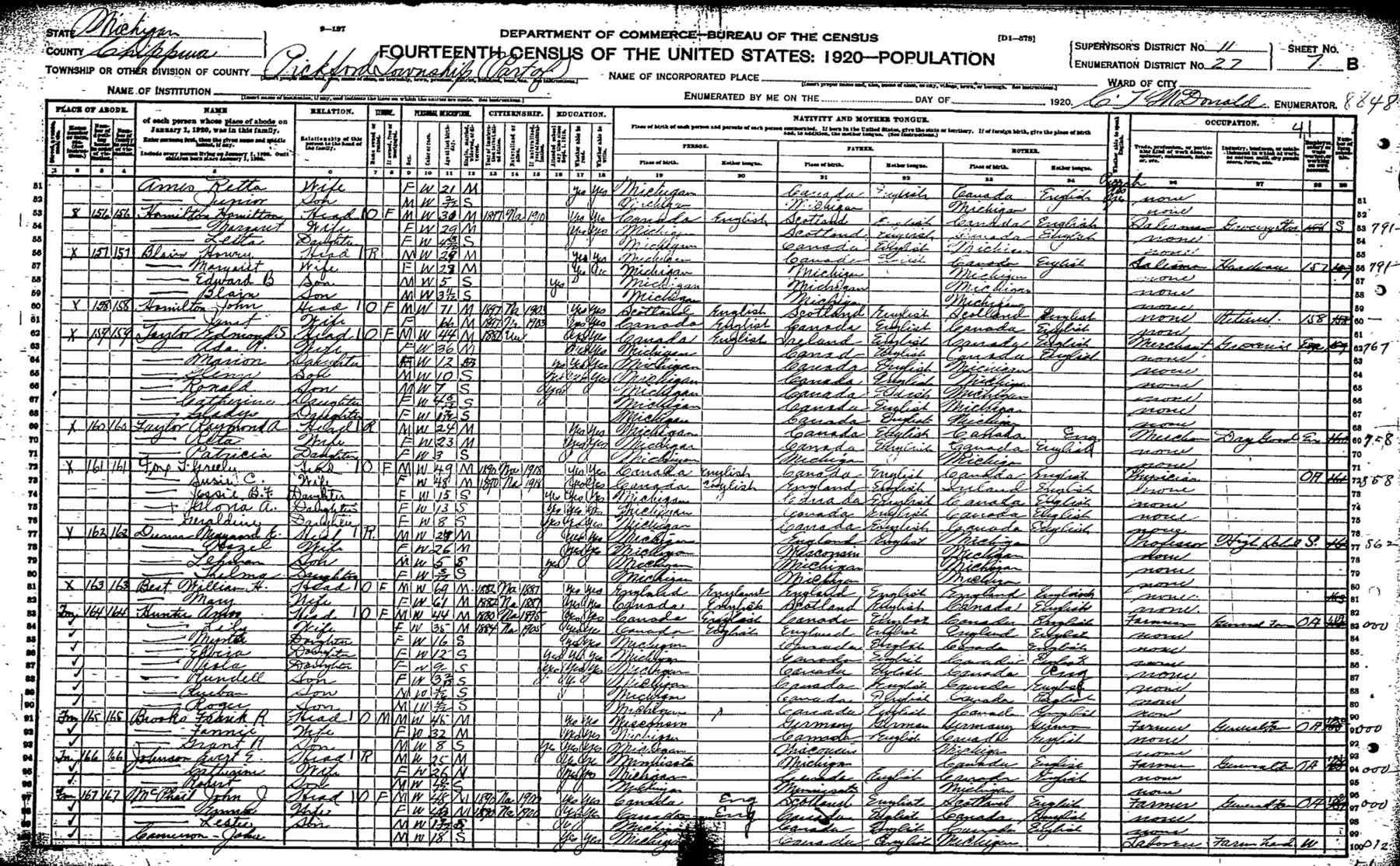 3. Lillian appeared in the household of Amos HUNTER [292] in the 1920 United States census on 2 January 1920 in Pickford, Chippewa, Michigan, United States. 1920_MI_Chippewa_11_27_07b This event was shared from Amos HUNTER [292] who also shared it with Alvira HUNTER [463], Myrtle HUNTER [738], Reuben Amos HUNTER [214], Rundle George HUNTER [202], Viola HUNTER [216], and William Roger HUNTER [215].
Lillian married Amos HUNTER [292] [MRIN: 119], son of William John HUNTER [144] and Hannah FOUNTAIN [145], on 15 October 1906 in St. Ignace, Mackinac, Michigan, United States. (Amos HUNTER [292] was born on 8 June 1876 in Teeswater, Bruce, Ontario, Canada,172,286,287 died on 25 July 1941 in Petoskey, Emmet, Michigan, United States 169,286 and was buried in 1941.)
Lillian next married Unknown PARKER [737] [MRIN: 123].